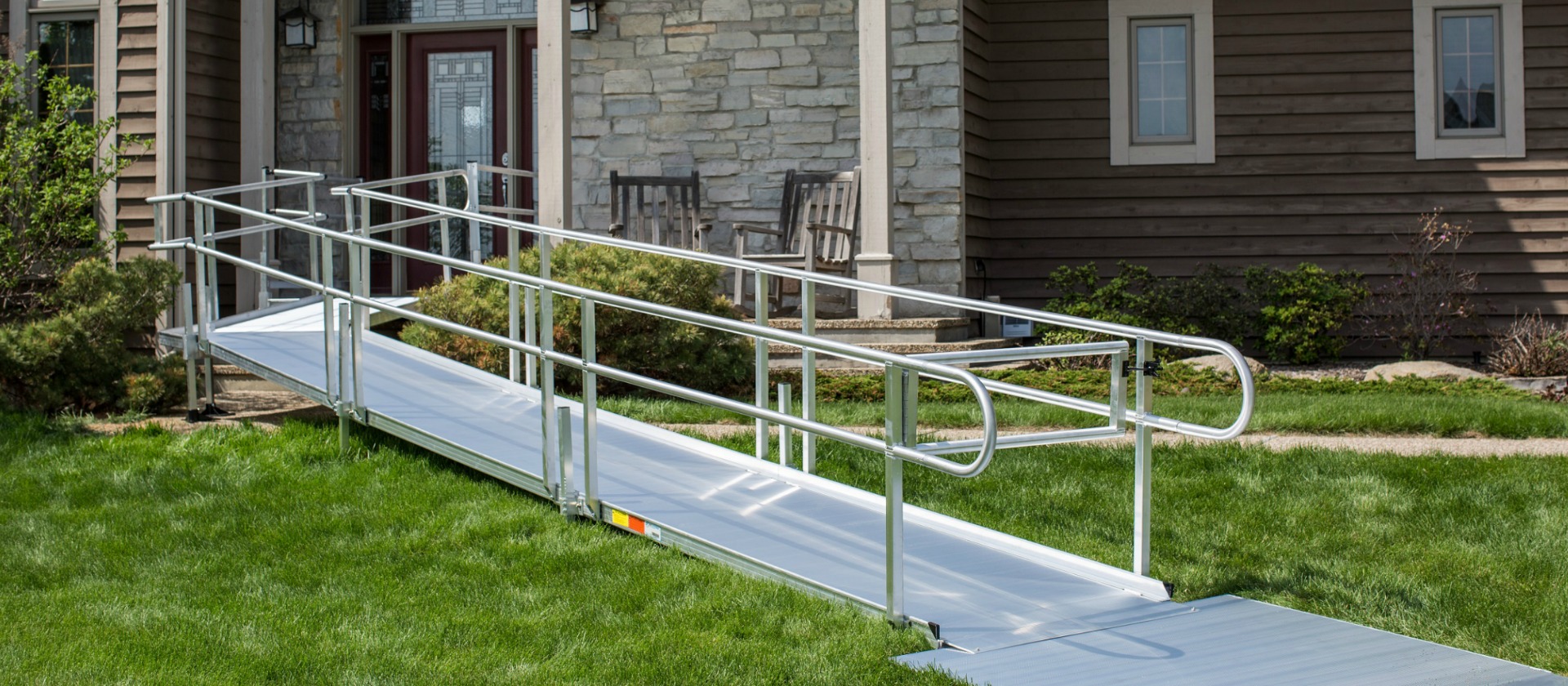 Wheelchair Ramp Rental in Michigan
Senior Home Solutions provides wheelchair ramp rental for short term needs such as recovering from a surgery or accident. We custom build home or deck access ramps, giving you the ability to safely enter and exit your home without having to navigate any steps with a wheelchair or scooter.
If you need a wheelchair ramp for a limited time, Senior Home Solutions offers wheelchair ramp rentals throughout Michigan for temporary use. So if you do not need a permanent wheelchair or scooter ramp we can accommodate your mobility ramp solution.
Our mission is to help make your world more accessible, through a comprehensive offering of accessibility and mobility solutions. We offer a wide variety of handicap ramp designs to work with a number of entryway and threshold challenges, and durable attractive wheelchair ramps from a variety of materials such as steel and aluminum.
Our wheelchair ramp installation team is experienced with ADA / accessibility standards to insure a fast, safe and attractive wheelchair ramp installation.
Wheelchair Ramp Uses
Our wheelchair ramp solution is full service for any situation...
Short-term rehabilitation

Hospice or end-of-life situations

House guest with disabilities

Special Events such as graduations, weddings, and elections

Residential and Commercial Installations
Grab Bars
ADA Compliant Grab Bars for kitchen or bathroom applications: shower grab bars, hand-rails ...
More detail
Wheel Chair Ramps and Lifts
Ask us about purchasing wheel chair ramps and lifts, getting them installed etc...
More detail
Mobility Consulting
We can help out with any of your accessibility challenges, kitchen, bathroom, click to learn more
More detail
What is included?
Renting Modular Wheelchair Ramps
We offer a wide variety of portable and custom built wheelchair ramps for your Michigan residential or commercial location
Wheelchair Ramp Installation
Our professional team will take care of everything, from the initial assessment and consultation to design, installation and removal.
Customer Service
We are ADA compliant professional team at your service. We offer you our local number and email to contact us anytime you need help with your wheelchair ramp rental or simply have questions about the timeframe.
Looking for a dependable, Michigan wheelchair ramp rental specialist?